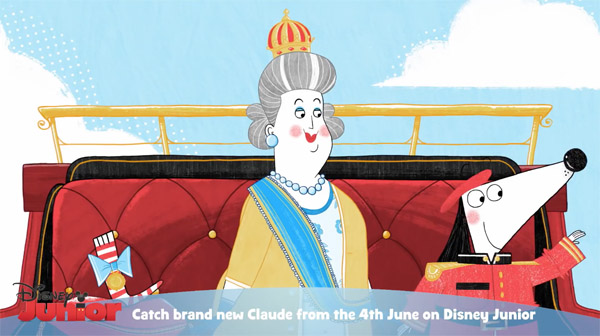 As the countdown begins for the June 4th release of the new animated TV series Claude, Disney Junior UK have previewed some episodes to tantalize us with.
If someone is needed to save the day, take on a special role or help a friend, Claude is the "I CAN DO THAT" dog – and so begins a madcap series of events. Claude mightn't always get it right, but he certainly has a lot of fun trying.
The Belfast production company, Sixteen South, responsible for bringing Claude from the book to the screen, really have retained the essence of Alex T. Smith's stories both in the humour and the destinctive hand-drawn 2D animation. A talented team of writers and animators were involved in producing 50 twelve minute episodes and 11 mini episodes and Alex was a valued part of that team as Creative Consultant, even writing some of the scripts.
The voices also play an integral role and an outstanding roster of British actors have been cast to bring the eccentric mix of larger-than-life characters to life. Simon Callow CBE plays the raconteur sock, Sir Bobblysock – side-kick to Claude. Callow, who plays a sock for the first time in his four-decade screen career, said:
"I just loved the character and the relationship between Claude and Sir Bobblysock. He's very well written and the concept of the stories is very original. There's a lovely innocence about the series, however it's also odd and wacky. The characters are so vivid, funny and unexpected.
You can see a mini episode A Good Night's Sleep HERE, where we're introduced to the exceedingly eccentric and posh Dame Mumsie Turret and Lord Turret.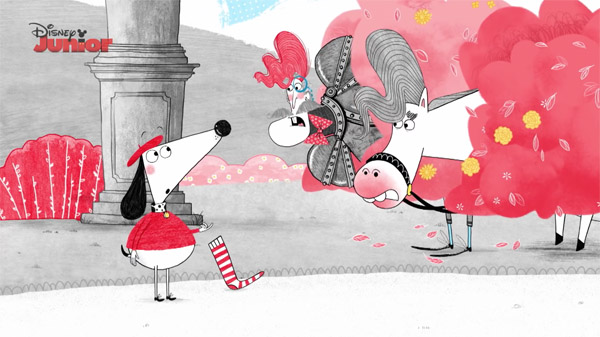 Our eager and enthusiastic doggy hero is played by 10-year-old newcomer, Alexander Molony. Other actors include: Anne Reid MBE as Dame Mumsie Turret; Shane Richie as lovable geezer and trader, Denzel Pedal and Jane Horrocks as Highkick-Spinner dancer Kimberly as well as Claude's owner, Mrs. Shinyshoes.
Alex T. Smith said: "I'm completely thrilled that Claude's world is being brought to life by such an amazing group of actors. It's a nervous moment, as an author, hearing the voices of characters who have lived in your head for over a decade but my every expectation has been surpassed. I'm so grateful to the creative teams at Sixteen South for bringing together such a wonderful Claude cast and to the actors themselves for their dedication and talent."
Devised for TV and produced by Colin Williams, Creative Director, Sixteen South.
Series Script Editor Sara Daddy.
A Good Night's Sleep – written by Ciarán Morrison & Mick O'Hara
Directed by Tim Harper.
Watch NEW Claude on Disney Junior UK starting Monday 4th June @ 12.30PM! Subscribe to get a new dose of DisneyJuniorUK fun every day! ► youtube.com/subscription_c…